I have heard it said that good home design is much like a refrigerator. When it is working you don't notice it much but when it's not working it sure does stink. It doesn't matter how much you love your home, there is always, and I mean, always, that one awkward or empty spot in every house that you don't quite know what to do with.
Growing up in the construction industry I've been in countless homes, looked at hundreds of blueprints and without fail there is at least one spot in every design where I quirk my head and wonder "what is happening here?"  Albert Einstein once said, "Creativity is intelligence having fun". Using my creativity to help others achieve their home renovation projects is one of my favorite creative endeavors and each troublesome design dilemma is like a puzzle that I get to play with until a full picture emerges.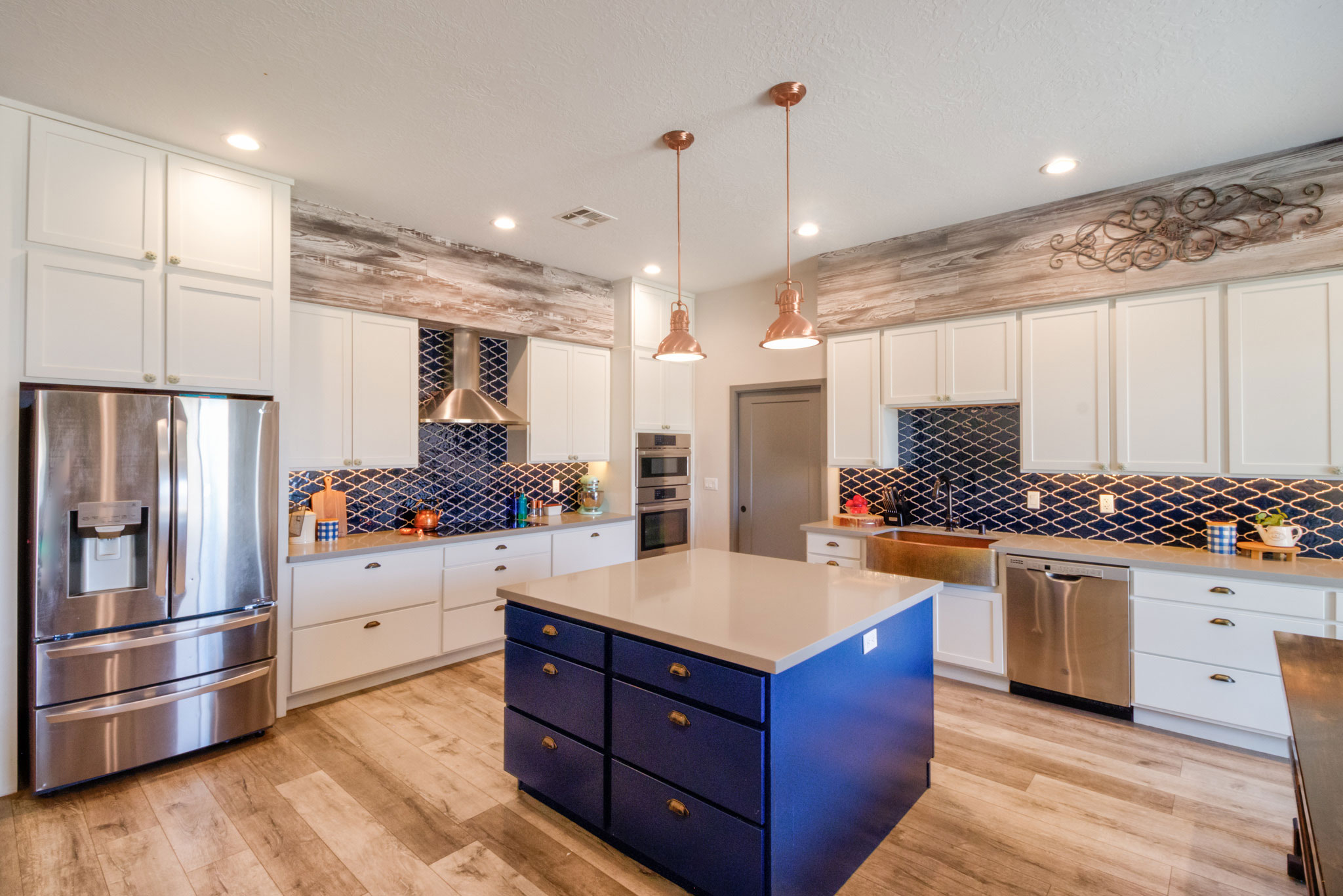 One such space is above the kitchen cabinets. There is typically a lot of decor real estate up there that can have a tendency to look overcrowded or sparse. In my own home I chose to utilize the concept of a soffit. While you won't see these in homes much these days, a soffit is nothing more than a framed extension from the ceiling down to the cabinets. I chose to cover my soffit in a vinyl plank material to give it an updated and rustic feel. Not only does this eliminate the typical dust trap that typically is present when leaving the tops of the cabinets exposed, it also reduces the amount of decor pieces needed to fill the empty space and allows the decor items I hang on the soffit to be fully visible instead of being partially obscured by part of the cabinetry.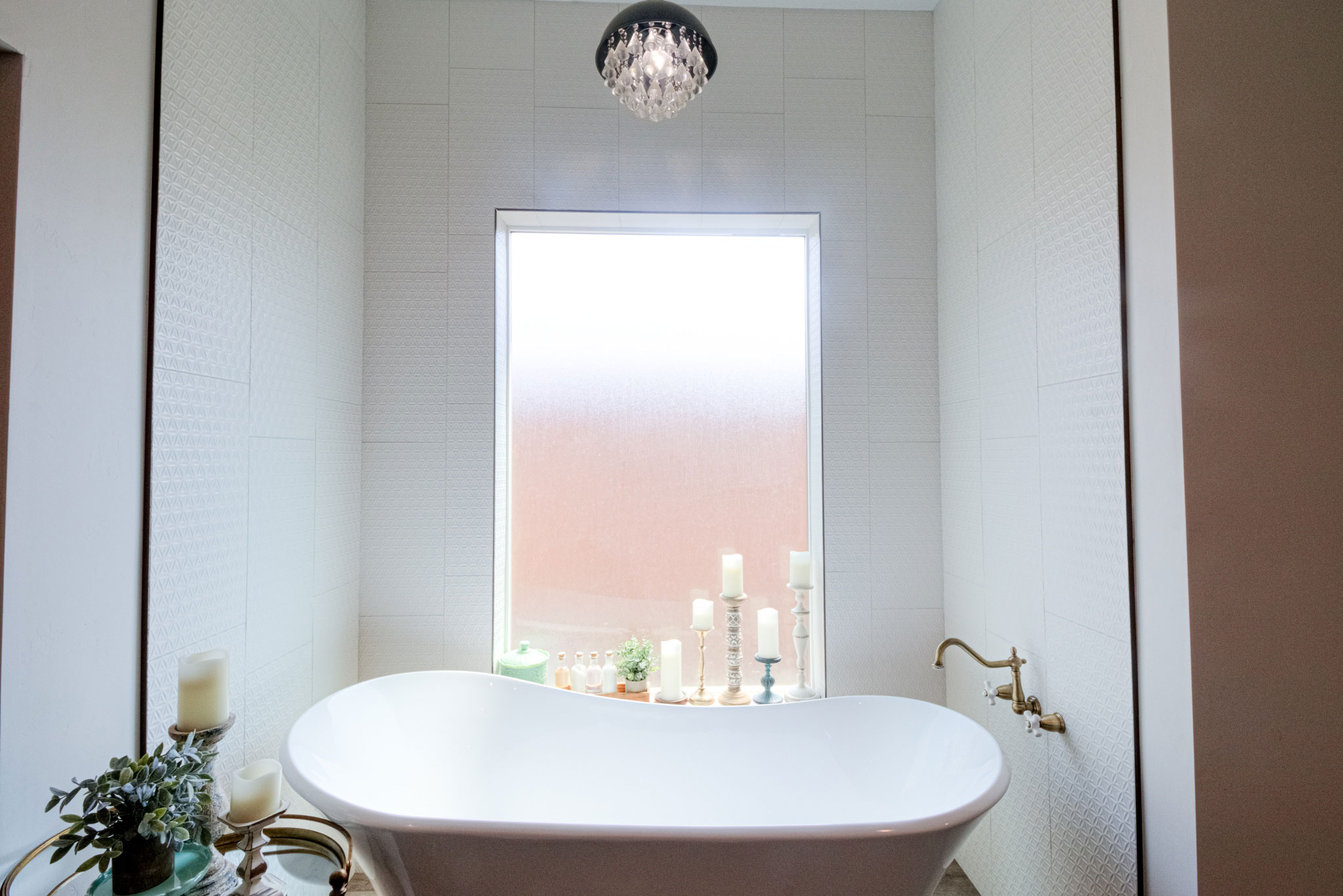 Bathrooms can easily become a source of design consternation due to the typically small spaces and at times odd angles. One of my favorite design tricks is to use a patterned tile from floor to ceiling in lieu of wallpaper. It provides visual interest without taking up space, is easy to clean and can handle the moisture levels a bathroom dishes out.
One of the most common dilemmas I've noticed in many homes in the area has to do with lighting. The tricky thing, especially during the summer months, is to allow as much natural light in as you want, when you want it, while at the same time keeping the heat out and the cool air in as much as possible.
Which way a house and windows are facing in relation to the Sun is crucial in this desert. Unfortunately we can't pick up our houses and rotate them to be more conducive to our lighting preferences. Although costly and messy, adding a window, transom (above a door), a sidelite (to the side of a door) would be an obvious option to increase natural light in a dark area of a home. Adding a window is typically a lot more complicated than it sounds so this is not usually the best option for most folks. A more creative solution would be to use reflective surfaces to bounce the natural light from the existing windows into the darker areas of the home. Reflective surfaces include decor elements such as mirrors, glossy tiles, shiny metals and colored glass. As for the windows that are unfortunate enough to be facing East or West, I highly recommend investing in energy efficient window treatments.
While most awkward home design areas can be rectified with some creative styling or renovating there are a few instances where accepting the quirks of the home as part of its charm may be the best possible solution.I can remember in one home, finally getting my babies to sleep only to have them awakened by the squeaking floorboards just outside of the nursery in the hallway and on the stairs. To remove the squeaking floorboards would have required a major renovation that was both unrealistic and out of our budget. So instead both my husband and I eventually got amazingly proficient at stepping on the quietest parts of the floor after we put the babies to sleep. That house still holds some of my most cherished memories to this day, squeaks and all.
Whatever your home's problem area may be, take heart, we are all in this together. An idealist at heart, I love what Walt Disney says, "If you can dream it you can do it". I believe that most problems can be solved with creativity, determination and hard work. But if you are still struggling to find a solution don't be afraid to call a professional.