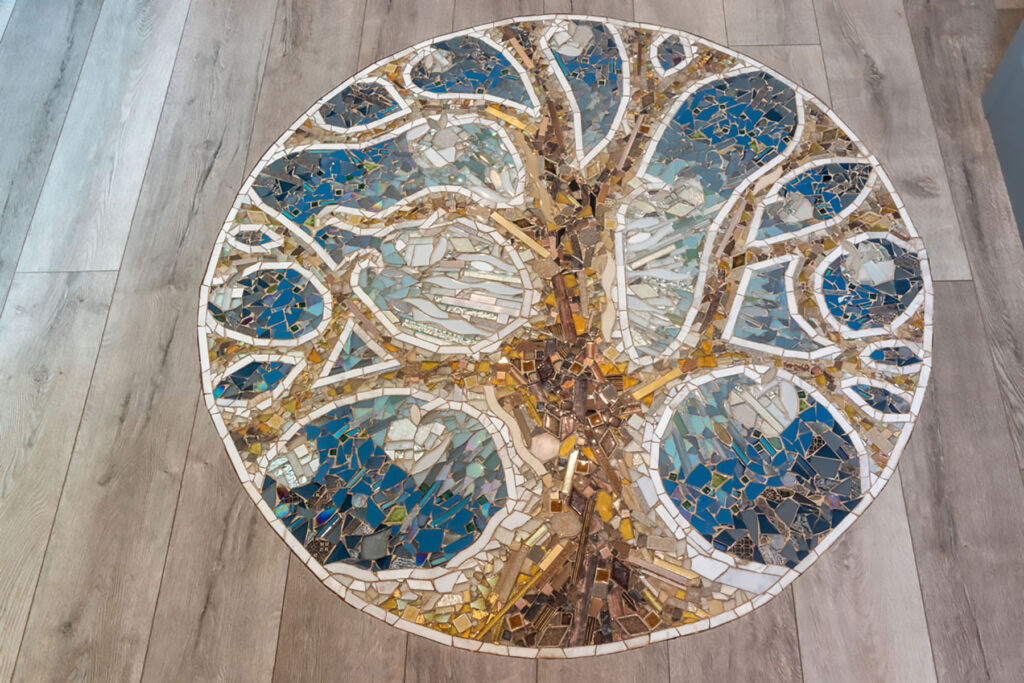 Symbolism is woven into the fabric of the holiday season. Consciously and unconsciously, these symbols have a huge impact on us. The consensus among experts is that up to 80% of our communication is non-verbal which means that spoken language is not always the most effective way to communicate. The use of symbols are far more powerful and can speak to us in a way that can last a lifetime.
Decorating a home, whether it's for the holidays, season changes, or a complete design overhaul, it's important to consider what each element of decor is communicating. If the walls, floors and decor in your home could talk, what would they be saying to you, your family and guests that come to visit?
While I was designing our new home in Mesquite, I knew that I wanted an artistic statement piece in our entryway that communicated to myself, my husband and my children that our home is our sanctuary, a place of refuge, and something that conveyed a sense of peace,
welcome and connection to our guests and loved ones who would walk through our door. I decided upon the universal symbol of the Tree of Life. It's a symbol that can be found in almost every culture, spiritual and faith tradition around the world and throughout history.
I decided that I would use tile as my medium and create a centerpiece for our entryway so that everyone who walks through our door would, in a sense, walk through the tree and into our home. I began this labor of love by sketching out my tree and working through a soothing and warm color palette. I then began selecting and cleaning leftover tiles from our warehouse at Mesquite Tile and Flooring. I broke and shaped each piece of tile by hand and slowly, piece by piece, my tree began to emerge. Over 100 hours of labor later and it was ready for installation.
Our team of installers took a tremendous amount of care while they centered and cut a hole to embed the four and a half foot diameter mosaic into our new vinyl plank flooring. We, my husband, our three children and I, then gathered around our tree and each took turns as we filled in the tiny gaps between the tiles with grout and then cleaned off the excess. The result is stunning and our Tree of Life has been the cornerstone symbol and reminder in our home ever since.
Symbols are powerful, inspiring and can communicate things that words cannot. A well placed item with symbolic meaning in art, architecture or decor can transform any area into a space that you will love for years to come. The holiday season is the perfect time to take a second look at areas of your home that could use a little sprucing and find ways to use symbolism that communicates the messages you want to convey.